If you look at my Flickr account, I don't believe you can really trace a progression of "worse" to "better" photos. Part of this is because I deleted the not so good photos – I realize now that, in future learning, I need to keep those bad examples to show students because they are just as much of a learning queue as seeing the good examples.
The other part is because I opted to try such a wide variety of photography that I didn't really have time to perfect it – I would just do it and move on. I discovered as I was learning that I wanted to take the approach of comprehensive learning and experimenting – trying to take photos in as many different ways as possible. I introduced myself to many avenues (portrait, landscape, lightbox closeup) and basic tips, so that I have a solid base to go forward from. I thought that would be a better use of my time and learning than taking one path and really perfecting it. This way, I know which avenues I like most. After I put myself out there and tried different things, I still realized I like landscape photography the most. Next steps forward would be exploring landscape photography in more detail, and trying to get those breathtaking shots you see online and in museums and on travel brochures, etc. I have been told by those close to me that my photos are good, and I know their opinions may be biased, but it still gives me confidence to keep trying and expanding my horizons.
I have been trying to get my photos out there through sharing them in groups and contests. I think it has increased my views a little bit, but sharing my photos on Facebook and my blog have generated the most traffic. I will need to keep pushing for feedback on public platforms like Flickr to get more noticed.
One major point I reflected on as I did each mini project was how photography requires both a reactive and proactive mindset. You have to be an opportunist who simultaneously sees something beautiful as it is and react to it, but you also have to have tools and the eye for how to plan and stage a scene for when 100% natural beauty is scarce (something I learned when I prepped for portrait photography, when I made a lightbox, and when I took photos at different times of the days to play around with lighting).
Below is a list of my most important blog posts and a concise summary of my learning in each.
---
1 – Beginning of my Journey Pt A
Me rambling on about what I am hoping to get out of this learning experience. I was also very excited to try out the new photography technology I bought online!
---
2 – Puddle Photography and Double Exposure Idea
This first progression of blogs shows my interest, and then pursuance of double exposure-style photo editing. I counted it as part of my photography journey because, ultimately – why are we taking photos, if not to do something with them? Whether we frame them, edit them, combine them… we are always creating and improving.
---
3 – In Person Learning with Corla Rokochy – Definitely Worth a Read!
I am friends with Corla through The Lyric Theatre. I knew she was a professional photographer, but she actually approached me through Facebook after I put it out there that I was taking photography for my class. Thanks so much Corla!!!
---
4- Preparing For Portrait Photos
I only did portrait photography once (not counting my self-portrait photography which you can find on my Learning Project page) and my friend was my reluctantly willing participant. We both ended up having fun and the photos turned out great. We both learned more about posing and working with light. Our favourite agreed-upon photo is the one above – I followed the tips of shooting when she wasn't locked into a pose and got this gem!
---
5 – Making a Lightbox (Mini Photo Booth!)
I loved this project (another idea from Trish) and am so grateful I have a resource I can use whenever I want, to take crisp, professional photos of objects on a white background.
---
6 – Flickr Friend Advice on Photography (Great Resource For All!)
I was blown away by how this woman did not know me at all, but saw I was beginning to learn photography and, out of the kindness of her heart, shared her photography experiences and tips she has learned! She gave me project ideas, theories on good photography (the Fibonaccci sequence, having an asymmetrical amount of objects in focus, and so on), and a lot of motivation to keep on shooting. In the second blog, I document me following her project idea of taking photos of the same place at different times.
---
7 – Landscape Photography Tips
The first blog shows a great resource that helped focus my attention for taking landscape photos instead of just snapping at "whatever looks good". You can see the fruits of my labor in the second blog post.
---
8 – Photoshop Tutorial on Editing Layers
Sundown Photos (Showing Learning and Progress)
This selection of links show a progression in my use of Adobe photoshop to do timelapses, and also show my progression in photographing dusk/sunset scenes. If you look at the bottom of the 2nd link you will see a photo of a colorful sunset, and I think that symbolizes the end of my learning journey perfectly. The sun goes down as this class ends, but will be back again tomorrow as I continue my passion of photography outside of class!
---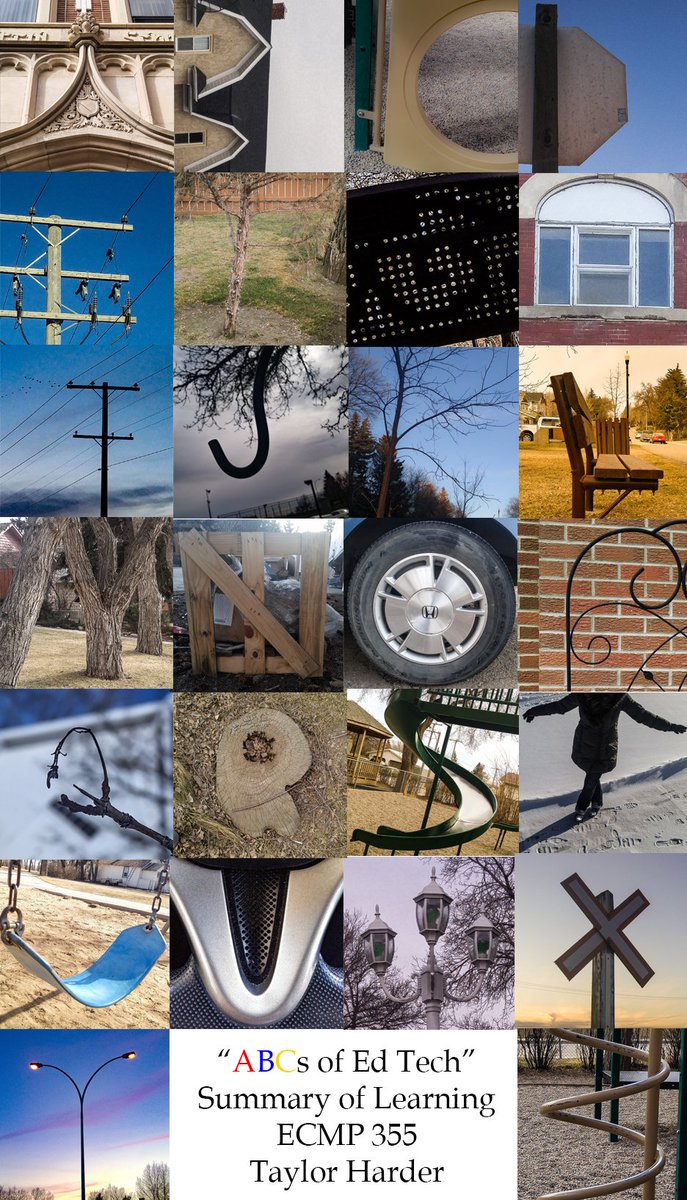 9 – Tracing the Progress of my Alphabet Project
I thought it would be fitting to incorporate my learning project into my final summary of learning so I decided to make an alphabet poster that would be transformed into an interactive image map of different things I learned in this class!
You can view my journey in its entirety documented here, on my Learning Project category page. I did not include all blog posts in my summary above – only those I thought were most important.
---
Important links to check out, where I documented my learning and final products:
All photos on this page were taken by me. If you want to relax and scroll through some photos of what I perceive (and you may perceive) as beautiful, please be my guest!
Please leave a comment, either on my blog or on my photos!